Earn 1.5 Ethics CEUs (for free!) While Learning About the New CPT Codes
Date: 09/11/2018



CalABA is pleased to invite you to join us on Tuesday, September 18, 2018, from 10am-12pm PST, for an enlightening presentation - New Applied Behavior Analysis CPT® Codes in 2019: What Practices Need to Know. 

This event is FREE of charge for all active CalABA members ($10 for non-members), and will provide 1.5 CEUs in Ethics. Scroll down for more information, and to register, simply follow this link! https://tinyurl.com/y9j22etx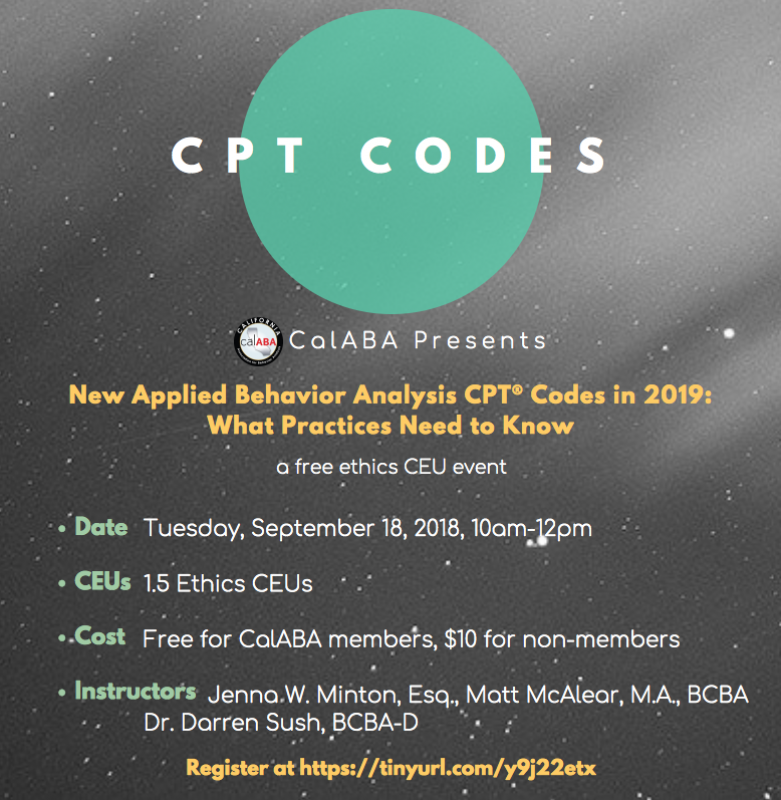 Hoping to see you all there! We are excited to be able to offer Ethics CEUs by including an invaluable discussion on ethical considerations in billing.
New Applied Behavior Analysis CPT® Codes in 2019: What Practices Need to Know
Jenna W. Minton, Esq., Minton Healthcare Strategies
Recently, the American Medical Association CPT® Editorial Panel released eight new Category I and two revised Category III (temporary) CPT codes for billing "adaptive behavior" services. These codes will take effect and be available for use January 1, 2019.  Adoption of those codes by health plans will directly affect ABA providers, practices, and consumers. This tutorial will provide an overview of the new and modified codes, possible valuation approaches payers may take; differences between the Category III and Category I CPT ABA codes; and information related to navigating various payer implementations of these codes. A status report on the efforts of the National Steering Committee which is a collaboration among representatives of the Association of Professional Behavior Analysis, the Association for Behavior Analysis International, the Behavior Analyst Certification Board, and Autism Speaks will also be provided. 
Ethical considerations in billing discussion will be presented by Matt McAlear, MA, BCBA, CalABA Executive Director, and Dr. Darren Sush, BCBA-D.